Mental health care providers are a great way to get the mental help that you need, but they have differences. Dual Board-Certified psychiatrists and psychiatrists, for example, are physicians who specialize in prescribing psychotropic drugs for those with mental illnesses. Psychiatric nurses can also administer psychiatric medication.  Psychologists study human behavior and apply it to real life situations while therapists counsel patients through difficult periods of their lives. In this blog post, we will compare these five types of mental health providers so that you can choose which one is best for your needs.
Dual Board-Certified Psychiatrist
A Dual Board-Certified psychiatrist has completed an additional five years of residency and/or fellowship training after receiving their doctor of medicine degree. This training extends well past what is needed to pass a medical licensing exam and can also include specialized training in a sub-specialty. After completing this additional training, a Dual Board-Certified psychiatrist will then need to take and pass oral and written examinations. Once they have obtained their certification, they will need to maintain it by continuing their education and passing their ABPN board exam every 10 years.
Psychiatrist
A psychiatrist is a medical doctor who can diagnose and treat mental health problems through the use of prescribed medications.  They will also complete four years of residency training followed by an additional two-year fellowship program focusing on the treatment of mental health issues after obtaining their doctor of medicine degree, however they will only become Dual Board-Certified if they complete their training at accredited locations and pass the board examination. Even without a board-certification, psychiatrists can legally and effectively manage mental health conditions with medication, although they lack the skills of a Dual Board-Certified psychiatrist.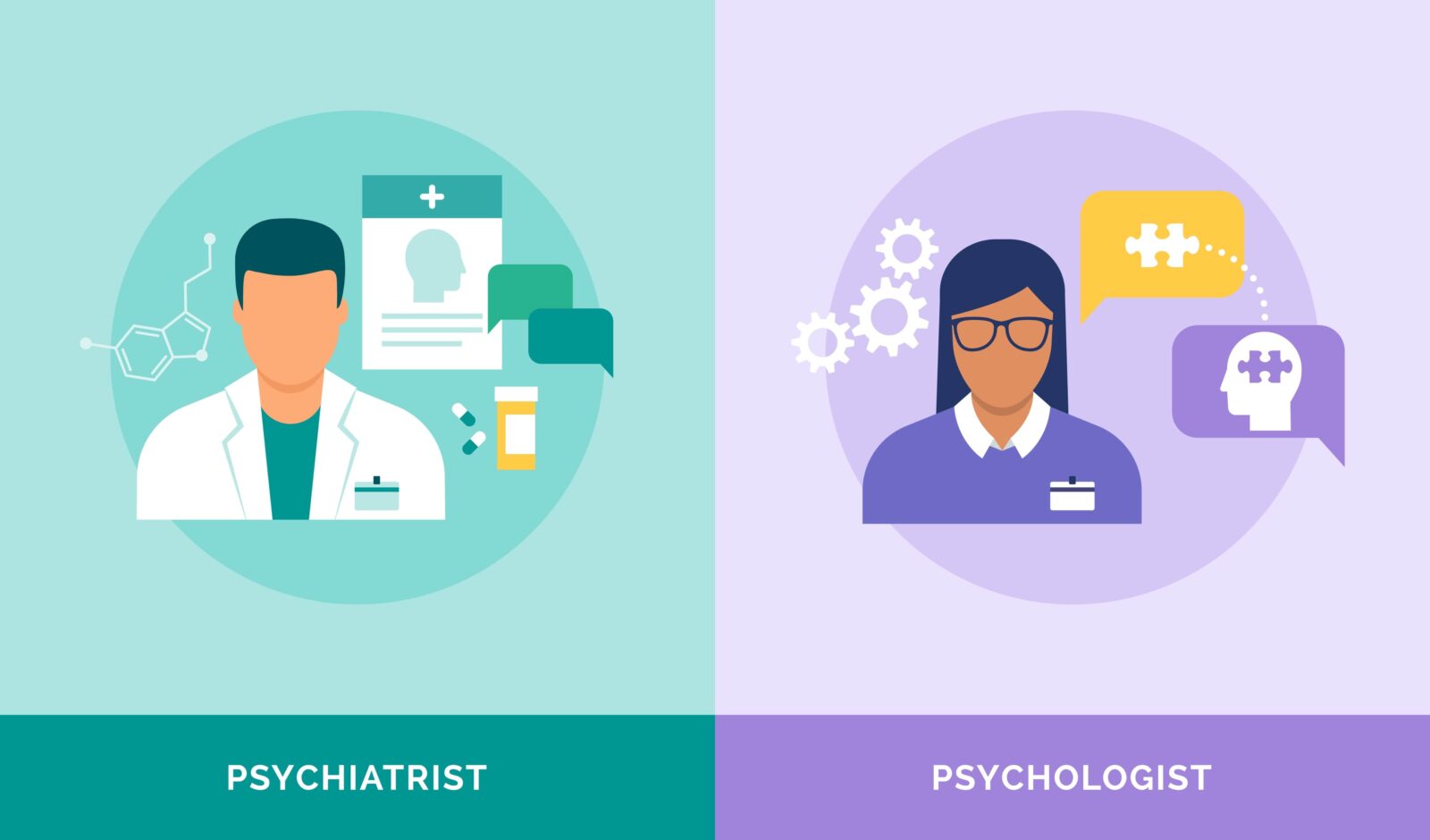 Psychiatric Nurse Practitioner
A psychiatric nurse practitioner, sometimes also known as a mental health nurse, is a registered nurse specializing in mental health that is able to administer psychiatric medication under the supervision of a psychiatrist. They are required to complete their Master of Science or Doctor of Philosophy (PhD) in nursing with a focus on psychiatry.
Psychologist
A psychologist specializes in the science of mood, behavior, emotion, and thought, and is trained to evaluate a person's mental health by performing interviews, psychological evaluations, and testing. They are required to have a doctoral degree in clinical psychology or other related fields. They are unable to prescribe medication, however they can provide talk therapy for a variety of mental health concerns.
Therapist
Therapists, also sometimes referred to as counselors or clinicians, use techniques based on specific training programs that help counsel people. Oftentimes, therapists choose to focus on a specific area of specialty including: addiction, families, general stress, job stress, and/or marriage. They are required to have at least a Master's degree in a mental health-related field.
In Conclusion:
As you can see, there are different types of mental health providers. It is important to understand the differences between mental health providers so that you can find the right type of provider to get the help you need. At a glance, a Dual Board-Certified Psychiatrist has more training than a non-certified psychiatrist, for example, and they are able to diagnose patients with psychiatric disorders while providing medications. A psychiatric nurse can also provide medications, with the supervision of a doctor. Psychologists and therapists, on the other hand, don't provide medications and instead offer talk therapy.