Intellectual disability is characterized by significant limitations both in intellectual functioning and in adaptive behavior, which covers a range of everyday social and practical skills. This is generally considered a developmental disorder since the disability originates before the age of 22.
There are varying degrees of intellectual disability which can affect how one learns new skills. The majority of people with intellectual disability will have mild intellectual disability by definition. It is more rare for a person to have moderate or severe intellectual disability. People with intellectual disabilities are able to learn new things and many can live independently as adults with the proper support.
Intellectual disabilities can be caused by a variety of factors occurring before birth or during childhood, including: injury, disease, or a problem within the brain. Other cases have no known cause. Although most cases of intellectual disability cannot be prevented, fetal alcohol syndrome is one cause that can be. Avoiding alcohol, getting proper prenatal care, taking prenatal vitamins, and getting vaccinated against infectious diseases are all things people can do during pregnancy to decrease the risk of their child being born with an intellectual disability.
Potential causes of intellectual disability can include: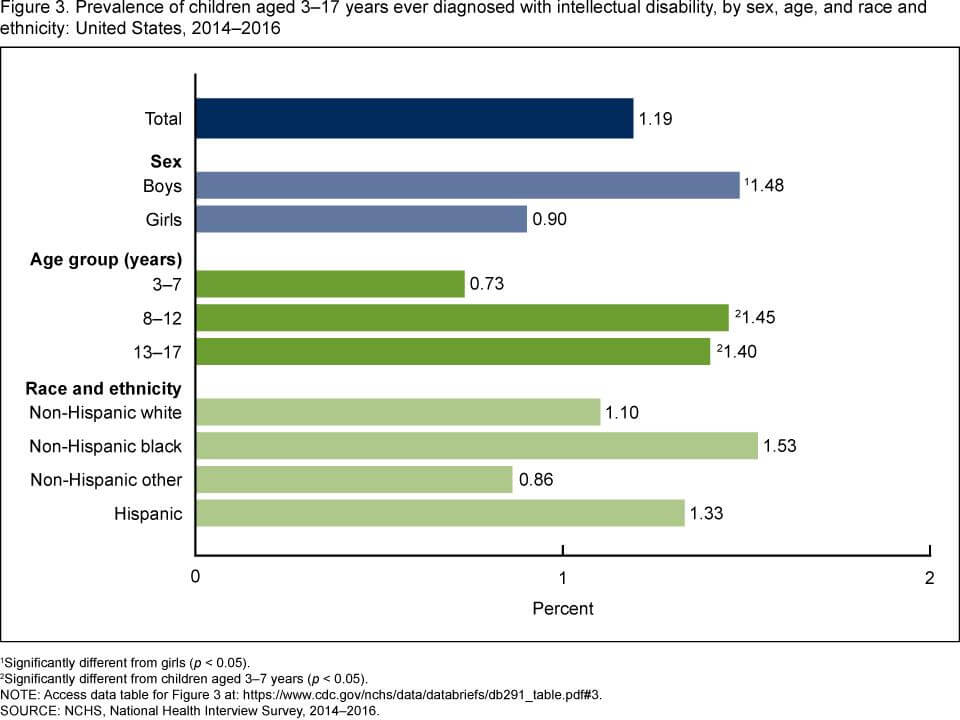 According to the American Psychiatric Association, intellectual disability affects about 1% of the American population. Of this 1%, about 85% have mild intellectual disability.
Genetic conditions such as Down Syndrome or Fragile X Syndrome
Problems during pregnancy that affect fetal brain development (alcohol or drug use, malnutrition, certain infections, or preeclampsia)
Problems during childbirth that caused oxygen deprivation
Certain illnesses like meningitis, whooping cough, or the measles
Accidents like head injury or near drowning
Frequently Asked Questions:
Symptoms that may suggest need for evaluation for intellectual disability include:
sitting, crawling, or walking later than other children
having trouble with understanding cause and effect
difficulty remembering things
trouble problem solving
an inability to understand social rules
learning to talk later or have trouble speaking clearly
A psychologist can accurately diagnose intellectual disability. Typically, a patient would undergo psychological testing including IQ test. We do not conduct this testing at Florida Family Psychiatry, but our physicians manage medications to treat comorbid mood or behavioral issues that may be present in patients with intellectual disability.
Intellectual disability is diagnosed by evaluating both intellectual and adaptive functioning. Intellectual functioning is evaluated through standardized testing. Adaptive functioning is evaluated through interviews with the individual and others in terms of three main areas:
Conceptual: pertaining to language, reading, writing, math, reasoning, knowledge, and memory
Social: pertaining to empathy, social judgement, communication skills, the ability to follow rules, and the ability to make and maintain friendships
Practical: pertaining to independence with personal care, job responsibilities, managing money, recreation, and organizing school/work tasks
Although intellectual disability cannot be cured, early and ongoing intervention can help an individual improve their functioning and live their best life. Treatment for intellectual disability will vary, but is generally focused on identifying and addressing an individual's specific needs through supportive services. Medications to manage comorbid mood or behavioral issues are prescribed by the physicians at Florida Family Psychiatry. There are a variety of service available, including:
Early intervention (infants and toddlers)
Special education
Family support (for example, respite care)
Transition services
Vocational programs
Day programs
Housing options
Case management
Medications to treat comorbid psychiatric conditions or behavioral issues.
Florida-Specific Exceptional Student Education (ESE) Materials:
Florida's Bureau of Exceptional Student Education a supports school districts and others in their efforts to provide exceptional student education programs for students ages 3 – 21 who have disabilities and students who are gifted.
Intellectual Disability: Definition, Diagnosis, Classification, and Systems of Supports
Some of the contents of this Florida Family Psychiatry (FFP) webpage were sourced from the American Academy of Child and Adolescent Psychiatry, the American Board of Psychiatry and Neurology, the National Institute of Mental Health, Centers for Disease Control and Prevention (CDC), American Association on Intellectual and Developmental Disabilities, and their affiliates. The content on this page should be used for informational purposes only. It is not intended to be a substitute for professional medical advice, diagnosis, or treatment. FFP has made every attempt to ensure the accuracy and reliability of the content on this website. However, the information is provided "as is" without warranty of any kind.
FFP does not accept any liability or responsibility for the content, accuracy, completeness, reliability or legality of the content on this website. FFP does not endorse or recommend any products or services. Additionally, external parties may not use any information on this website for advertising or product endorsement purposes.